Ramon Llull was the first Mallorcan who withdrew to Randa in 1273 to carry out contemplation. In the centre of the island of Mallorca, between the municipalities of Algaida and Llucmajor, is the mountain of Randa,
where the Hermitage for Sant Honorat, the Sanctuary for Our Lady of Grace and the Sanctuary of Our Lady of Cura are to be found.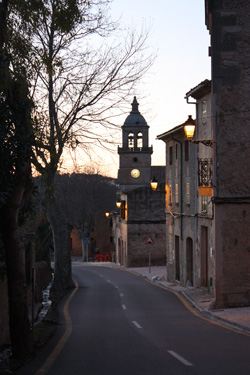 To access the mountain, people must approach via the small village of Randa, at the foot of the the mountain of the same name, and follow the road that leads to the top of the Puig de Cura.
In the first place we find the Sanctuary for Our Lady of Grace, that has its origin in the cave of s'Aresta, where in the mid XV century, two Franciscan friars started to live and converted it in a hermitage.
Facing East, it is in a vale at the feet of the Ermita de Sant Honorat and has been closely related throughout history to Llucmajor, the town the old path to the sanctuary leads from.
Further on, we come across the Hermitage for Sant Honorat. Arnau Desbrull, a noble knight who had chosen this hermit life, asked the Bishop of Mallorca in 1394, after living for 30 years on the mountain, for permission to build the Chapel to Sant Honorat.
Once he received the authorisation, Arnau Desbrull chose the part of the mountain that would face South to build the chapel that was finished in 1397.
In 1661, due to the ruinous state of the primitive hermitage, the present church was built.