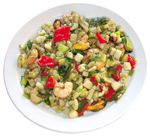 Ingredients for 4 persons:
• 200 g. cuttlefish   •  200 g. squid   •  100 g. octopus   •  200 g. angler fish cut into small pieces   •  100 g. peeled prawns  • 8 mussels  • 150 g. potatoes  • 3 fresh spring onions  • 1 red pepper  • 1 green pepper  • 1 bay leaf  • 1 clove of garlic  • 1 sprigs of fennel  • Salt and pepper to taste.
Preparation

Put a drop of oil into the casserole dish and fry the cuttlefish, squid, pieces of angler fish, peeled prawns and  mussels, together with the bay leaf and sprig of fennel. Season.
When ready, transfer the contents to a larger  casserole dish. Add more oil to the first dish and mix the garlic with the spring onion and peppers.
Next, add the fish. Fry the diced potatoes in a frying pan with some chopped garlic. Add these to the fish as well.
When all the ingredients are in the casserole dish, leave them on the heat for a few minutes and add salt to taste.