The town of Orient, Mallorca. Its stone houses, historic centre and sloping streets will not leave visitors to this small Mallorcan town unmoved. Orient is located within the municipality of Bunyola.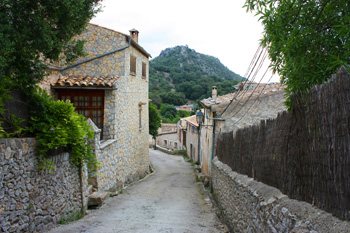 Sant Jordi parish church is a particular treat, built in the 18th century on a former 13th century chapel. We recommend you visit the unique public laundries that have been conserved and, in the outskirts, the houses of Son Terrassa and Cals Reis.
The town is excellent for cyclotourism, or for combining cycling with other activities in the surrounding area: Alaró market on Saturday mornings, a climb up to Alaró Castle or a visit to the Alfábia Gardens in Bunyola.
It is also the perfect place for hiking, with Coanegra stream, Alfábia mountain, the Puig de l'Ofre and Puig de La Rateta peaks, the Honor crags and the Puig d'es Moix peak with the Cúber reservoir.
If you fancy a bit of cyclotourism, we recommend the route described in this issue in the cyclotourism section.
There are several restaurants in the area where we can sample the local cuisine. In terms of accommodation, a great selection of rural retreats, former Mallorcan estates and olive mills converted into rural hotels, completes this charming corner of Mallorca.