With the first storms that announce the end of summer, the "Llampugues" (dolphinfish) arrives at the market. A tasty way to enjoy this fish is as follows.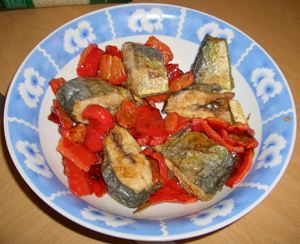 Ingredients for 4 people:
1 kg Llampuga (dolphinfish)
1 kg red peppers
4 potatoes
1 head of garlic
1 kg ripe tomatoes
oregano
bay leaves
olive oil
flour
Time:
Half an hour
Preparation
Start by cleaning the Llampuga (Coryphaena hippurus) and cutting it into pieces. Cut the peppers into strips and slice the potatoes into thin round slices. In an earthenware dish, prepare a sauce of fresh tomatoes.
Firstly, lightly fry whole garlic cloves and bay leaves and then add the tomatoes and leave the sauce to cook while frying the peppers in a separate pan.

When the sauce is ready, add the peppers.
Dust the Llampuga with flour and fry the pieces in a pan. Fry the potatoes separately and place them in the bottom of a casserole.
Pour the sauce over the potatoes, add the fish and leave everything to cook together for a few minutes. The dish is ready to serve.