The "tap de corti" pimenton is one of Especias Crespí's star products; they are a well known, well established company based in the Son Castelló industrial estate. Mallorcan paprika has its own organoleptic properties, like higher quantities of vitamin C and sugars.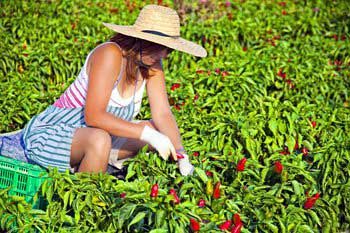 Mallorcan paprika
Especias Crespí works with farmers that grow the spice in Petra, Inca, Manacor, Sant Jordi and Marratxí. The 120.000 plants grown from March to October have allowed a harvest in 2012 of 11 tons of "tap de cortí". Five of them are of ecological production and are marketed in small bottles of 80g labelled in Spanish, English and German. Juan Velsaco, the company director, explains that in five years time, the aim is to export five tons of ecologically produced "tap de corti".
The other six tons are added to the pimenton used for the "Matanzas" (products made from seasonal pig slaughtering). The cultivation of "tap de cortí" for the "Matanzas" is the main key that has led to its annual production increasing so dramatically, just five years ago they only produced 300 kilos. This year they produced more than 40 tons of pimenton for Matanzas.
Especias Crespí follows the same selective method as in the production of other traditional spices. The pepper for example is imported from four continents (it is not produced in Europe) and a mix with unique features is made. The company launched a line called Sabores Del Mundo (Flavours of the world) onto the market in 2011, a wide range of herbs and spices with typical recipies from all over the world.