The slingshot has played a significant role in the history of the Balearic Islands. It would be impossible to delve into the history of the Balearic Islands without making reference to the Balearic slingers, for the very word, "Balearic", means, literally, "Master of Throwing". The islands' slingers were introduced to the world of slinging at birth.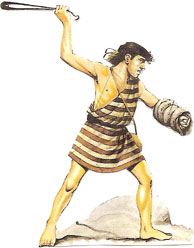 Their great skill was highly praised and admired by the great historians of the day, that is, by both the Greeks and the Romans. Its huge value in combat, their spectacular skill, expertise and efficiency when operating the slingshots made them famous throughout the Mediterranean.
The Romans made repeated requests their services within their own light infantry, with Julius Caesar in fact employing Balearic slingers as part of his troops during the Gallic War. It is believed that the first peoples settled on the islands in around the fourth millennium BC.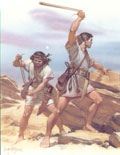 The earliest human remains found on Mallorca date to around 3500 BC, the Neolithic Age. An example of these first settlers can be seem in "The Man from Moleta", whose remains were found near Valldemossa Port.