Mallorca's looms produce what are probably the last ikats in Europe. Ikat is a dyeing and fabric weaving technique. The name the llengües fabric receives in Mallorca is robes de llengües, a traditional fabric with a long history on the island.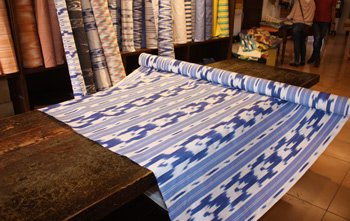 This technique forms a pattern on the fabric; some of the thread is protected during the dyeing process so it does not take on the colour.
The final pattern is achieved when the thread is placed in a warping machine before being placed on the loom. The result is a geometric design with blurred contours, giving the sensation of tongues of fire. An important feature that will help you recognise the authentic fabric, is that the pattern will be exactly the same on both sides.
The traditional Majorcan ikat colours are blue, red and green.
Llengües fabrics have been made for centuries, but they gained prominence in the 17th century when they become popular among the Majorcan gentry. They were very expensive fabrics woven in silk. During the 20th century, linen and cotton versions were introduced. They make very durable upholstery and their great quality stands the test of time and many cleans.
Today you can also buy canvas shoes and bags made using this technique.