Characteristics:
An endemic plant of Mallorca, it can be found in garrigue clearings in the driest regions of Mallorca, in the region spanning between the extreme south of Marina de Llucmajor up to the coasts of Xorrigo, between 20 and 150 metres above sea level.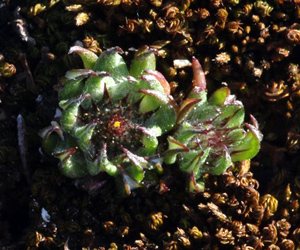 Its measurements are slight, with the fully-grown plant not growing above 0.5 to 4cm, which is perhaps one reason for it having gone unnoticed until very recently.
Its leaves are dark green in colour on the front and covered in white hairs on the reverse. Branches can grow right from the base, thought often there aren't any.
It is clearly different to the other Filago or Evax species for its size and because, in general, all species of these genres are whitish in colour.
It is an endangered species and its habitat includes areas of urban pressure, a factor which complicates its conservation.
Family: COMPOSITAE (ASTERACEAE).
Scientific name: Filago petro-ianii Rita & Dittrich.
Genus: Filago.
Provincial distribution: Balearic Islands.
Distribution by islands: Mallorca.
Status: Endemic.
Flowering time: March, April.
Categoria IUCN: Vulnerable.
Habitat: Places discovered and sunny.
Vital Forms: Therophytes.