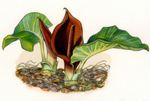 Arum pictum has large leaves like Arum italicum, but they have clearly visible white veins and a fine reddish line along the leaf's margin.
Characteristics
On the contrary to Arum italicum, it flowers in autumn; the spathe has reddish colours and the spadix is very dark. It lives in dry garrigues (Mediterranean woodland). This species is a Tyrrhenian endemism (Eastern Balearics, Corsica and Sardinia).
Catalan common name: Cugot. Rapa blava. Rape mascle.
Spanish common name: Aro.
Province distribution: Balearic Islands.
Distribution in the islands: Cabrera. Mallorca. Minorca.
General distribution: Mediterranean (Balearic)
Endemisms: Balearic Islands
Flowering time: September. October.
Habitat: Coastal garriques and rock creviceses.