The whole essence of the Mediterranean is concentrated in this itinerary. Dragonera Island will give us a hint of loneliness, reminding us of the importance of protected natural areas.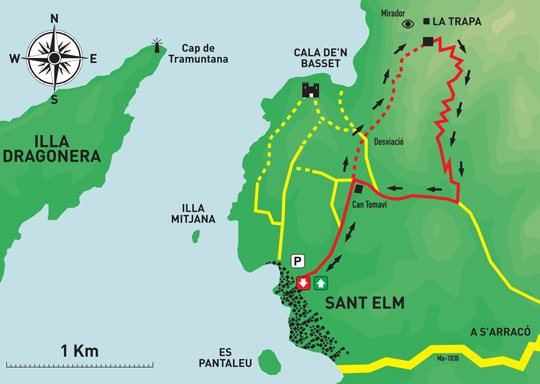 Difficulty: Easy – Clothing: In time of year – Altitude: 370 m – Time: 4 hours – Km: 6

In La Trapa you will witness the result of human perseverance. 200 years ago the Trappist monks turned an almost barren valley into an oasis of life, teaching us a lesson on survival.
There are three paths to La Trapa. The most frequented way, known as the Forest Route, starts some 150 metres after the s'Arracó cemetery and passes via the Collet de La Trapa.
There is another path from Sant Elm, which goes via the Camí de Can Tomeuví and continues along a steep narrow path that goes along the coast and offers some extraordinary views over Cala en Basset and its tower, with sa Dragonera island on the horizon.
Finally the third route starts at kilometre 3.4 on the road between Andratx and Estellencs, going via the Coll de Sa Gramola and the Cap Fabioler viewpoint. The ideal route if possible is to go via the Coll de Sa Gramola and descend via the Camí de Can Tomeuví.
The cliffs, the vegetation, the birds, the buildings and their surroundings deserve special attention, the bancales and the mines of water drainage, the mill, the threshing area and the viewpoint.