Pep Lemon was born from an enthusiastic initiative to create natural fizzy orange and lemonades using a local, sustainable and collaborative manufacturing process.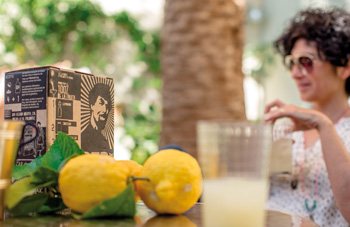 Pep Lemon works alongside local companies who provide the raw materials, hand squeeze the oranges and lemons, as well as package and distribute the produce.
Pep Lemon is made with hand squeezed Majorcan lemons; they never use lemon concentrate, as a result, it offers a flavour with interesting subtleties, appreciated by its loyal consumers who value Majorcan produce that is made in a healthy, natural way.
Pep Taronja supposed a challenge, how to achieve a fizzy orangeade made with just squeezed oranges, and then there is the Pep Cola, a drink made with carob, rosemary, ginger, clove and cinnamon; truly Mediterranean.
Continuing with the concept of making the most of the citrus fruits and developing produce that boast a strong personality, there is now also a line of lemon and orange marmalades, Pepa, and a mixer drink made with natural lemon juice and gin: Pep in a box. They distil their own gin, making it especially aromatic, with a higher percentage of juniper plus a touch of rosemary, allowing it to mix even better with the powerful taste of Pep Lemon.
+info PepLemon Mallorca: www.peplemon.com