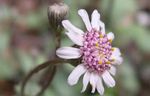 This small plant lives near the littoral zone, and it's easy to identify when in flower by its violet capitula. Leaves are also easy to identify: wide and fleshy with white diagrams on obverse side and reddish ones on the reverse.
Senecio rodriguezii Willk. ex Rod. Fem.

Family: Compositae (Asteraceae).
Genus: Senecio.
Catalan common name: Camamil·la de la mar. Margalideta de la mar.
Province distribution: Balearic Islands.
Distribution in the islands: Mallorca. Menorca.
General distribution: Mediterranean (Balearic).
Endemisms: Balearic Islands.
Life-forms: Terophyte.
Habitat: Rock creviceses.
Status: Endemic.