Mallorca Wine Express offers a guided tour though the most well known vine yards on the island.
The enterprise started just some three years ago but has become one of the most sought after activities on the island. It is the Mallorca Wine Express, a tourist train that offers a guided tour of the vine yards and bodegas in the Santa María-Consell-Binissalem area, obviously offering wine tasting along the way.
Behind the company we find brother Julián and Gil Panadés, who were determined to spread the word on the quality of these wines, mostly made with local grapes, that convey to the palate a unique identity, different from that of any other wine in the world.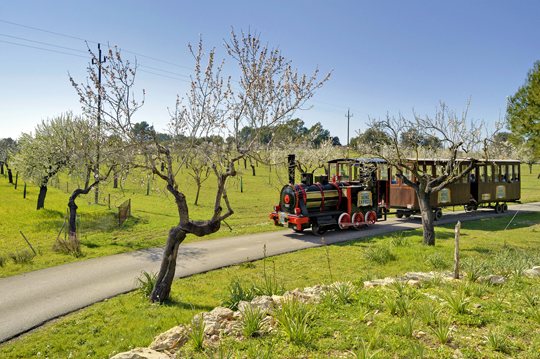 "The Mallorcan grape oxidises easily, but if you treat it with care it responds extraordinarily well and offers unique properties that cannot be found anywhere else in the world", says Julián Panadés. This is the spirit behind the Mallorca Wine Express that tours the vineyards belonging to Bodegas Ribas (Consell) and Bodegas José Luis Ferrer (Binissalem), combining the traditional element from the first with the more modern, industrialised art in the second.
This tour runs twice a day and is also flexible and can include the participation of four other winegrowers in the area: Ramanyà, Àngel, Sebastià Pastor and Jaume de Puntiró. The client can also choose between a variety of tours: Gourmet Tour, Sunset Tour, Finca Tour, VIP Tour and a made to measure Tour.